Ceramic deep groove ball bearing
You can choose single or double bearing shields made of ceramic or PEEK or PTFE or metal.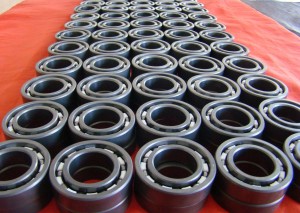 The cages and rolling elements can be manufactured according to the user's requirement.The rolling elements' material can be chosen from pressureless sintered SiC or gas pressed sintered or hot pressed sintered Si3N4 or ZrO2.
 Description
Usage:  ball bearings for high precision,anti-corrosion,cacuum,nonmagnetic,high temp,low temp,electric insulation. Characteristic:  resistant to strong acid,alkali,salt and gas of deleterious, PFA/PEEK has long life,resistant to wear.high toughness,high modulus of elasticity.
Feature 
Bearing material

Typical

series

Anti-

corrosion

Speed-

limited

Max working temp

Load capacity

Ring

Balls

Cage types

Si3N4

Si3N4

PEEK/ PTFE/ PFA/ GRAPHITE  REINFORCING PTFE

6000

、

6200

、

6300

○●●●●

●●●●●

260℃

○●●●●

Si3N4

 

Si3N4

 

heat-resistant stainless steel cage

 

 Full ball complement (without cage)

6000

、

6200

、

6300

 

○○○○●

 

○●●●●

○●●●●

 

○○○○●

800℃

 

 

850℃

○●●●●

 

●●●●●

ZrO2

ZrO2

PEEK/ PTFE/ PFA/ GRAPHITE  REINFORCING PTFE

 

Full ball complement (without cage)

6000

、

6200

、

6300

○●●●●

 

 

○●●●●

○●●●●

 

 

○●●●●

260℃

 

 

 

450℃

●●●●●

 

 

●●●●●

ZrO2

Si3N4

 

PEEK/ PTFE/ PFA/ GRAPHITE  REINFORCING PTFE

6000

、

6200

、

6300

○●●●●

○●●●●

260℃

○●●●●

SiC

SiC

PEEK/ PTFE/ PFA/ GRAPHITE  REINFORCING PTFE

 Full Ball Complement (without cage)

6000

、

6200

、

6300

●●●●●

 

 

 ●●●●●

○○●●●

 

 

○○○○●

260℃

 

 

 

1200℃

○○●●●

 

 

●●●●●
Supplier: Suzhou (China) SLZ Machinery Co Ltd , No.7 Dong Xiao Qiao Xia Tang, Shi Zi Jie, Suzhou, 215006 China, please visit webpage:
http://www.bearingsworld.com/right_ceramicbearing.htm
, email:
sales@bearingsworld.com
; 
office@bearingsworld.com
, MSN Code:
order@bearingsworld.com
, Tel: 0086 (0)512 65213180 / 6115 5723